Products
»
Automatic Speed Enforcement Systems

Viatronics Raptor
The development goal was to create a system that maximalizes the efficiency of speed measuring procedure by reducing the worktime and also the punishment-procedure time with a higher automatization level. Beyond this, the system is capable to give more – multi-usable – information, which supports the legitimity of the procedure.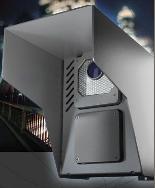 Viatronics SpeedCAM 200
Viatronics SpeedCAM combines an intelligent license plate recognition with a speed measurement radar to form a smart traffic sensor in a single sealed, robust and waterproof camera. The built in smart camera provides an all-in-one solution for intelligent traffic monitoring and license plate recognition. It includes high quality image capturing in integrated illumination, a processing unit for license plate recognition, automatic self-control and remote access. All processing is done inside the unit: images, license plate texts, time and vehicle speeds are stored in a database within the SpeedCAM´s memory with easy access through a web-server.

Viatronics SC100 Photo Radar
This all in one"smart" deviceprovides optimalimages in various operating environments.The built in software intelligence and hardwaremodules are based on 20 years experience in the field of OCR and ANPR camera technology.