Viatronics WWR

"RADIS" is the police radar gun with manual or automatic start of the measurement process. It is intended for usage by traffic police officers with the purpose of the traffic speed control.
BASIC DESCRIPTION
Unique compact device which weighs only 240 grams.
Superior ergonomics.
Selection of the target movement direction: oncoming, outgoing or both directions.
Wide variety of operating modes.
Strongest or fastest target detection.
Convenient detachable handle.
DELIVERY SET
The basic supply configuration of the radar gun includes:
Measuring unit.
Power supply unit (detachable handle).
Cable for connection to the cigarette lighter socket.
Bag for transportation and storage. 
The following accessories may be provided on request: 
Attachment bracket (for attaching the police radar gun to windshield).
Handheld operation.
220V power supply adapter for battery charger.
_____________________________________________________
The Stalker II
The range and performance
The Stalker II
The range and performance of a vehicle-mounted radar in
a versatile, hand-held package. Plus, Stalker's patented
direction-sensing technology.
Available in 2 models:

• Stalker II MDR - Moving Directional Radar
• Stalker II SDR - Stationary Directional Radar

Product Features:
Directional Sensing Technology
• Very high performance design using DSP technology
• Faster speed tracking
• 3 window display
• Track-thru lock
• Backlit LCD for nighttime use
• Advanced digital signal processing (DSP)
• New high capacity battery handle
• Cordless operation available
• Remote control option
• Detachable handle design
• Touch panel keyboard
• Rugged die-cast metal construction
• Moving & stationary versions
• 2-Year full warranty
Optional Motorcycle Kit
(Sealed Remote Control, Waterproof Cable Connections, and Special Mounting Hardware)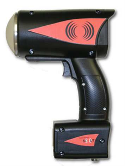 Scout Radar Gun
The Scout sets new standards for portability in radar. Before the Scout, radar had to be plugged into a car or use a proprietary battery pack. Now, police can rest easy, knowing their radar is powered by AA batteries.  
Part Number: The Scout
Genesis Handheld Directional Radar Gun
The new Genesis Handheld Directional packs advanced direction sensing technology into a radar gun that fits into any budget.
Part Number: Genesis Handheld Directional
Contact Form